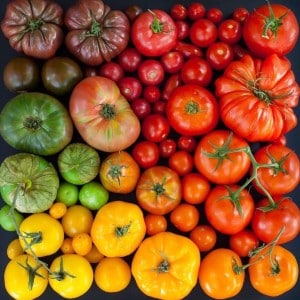 It is with a heavy heart that we will soon say goodbye to summer here in our commonwealth. Don't be confused…I will not miss the heat or the humidity, trying to keep a fescue yard alive, or trying to keep about 18 HVAC units humming 24-7. But for me, I'll miss the tomatoes; yep, said it, the tomatoes.
We had a struggling/bumper crop of almost all varieties in our Terrace garden this year. They suffered with what I will call "the too", too cool early, too hot, too dry, too wet, too hot again, with the exception of the too wet period (which caused major splitting and not much flavor), they were about as flavorful bunch as we have had in a couple of seasons.
We eat them straight off the vines, chunked and the board with a little coarse salt, and probably two dozen other ways. But hands-down, "best use of a da'mater" goes to, you guessed it, the staple of the south, "the tomato sandwich" notice no use of capital letters as she is just that unpretentious  (insert harp music here)…you will, no doubt, also notice that I didn't say BLT, not that I don't love a BLT, but it's just not a tomato sandwich. Tomato sandwiches are marvels of the simplistic… soft bread, here's where the fist-fighting comes in, mayonnaise (We are a Helman's family, I know there is a fairly strong Duke's clan out there, and bless their hearts, a misguided few that smear "salad dressing" i.e. Miracle Whip to their bread…YIKES!), slice or slices of garden tomatoes (my way of thinking is the perfect tomato slice is one that covers the entire bread and about 5/8's inch thick, I compromise early and late season when the fatties are scarce), and last but not least, course salt…nothing more. Cut it in half parallel to the side, no floppy corners on this baby, and lean away from your shirt to enjoy.
We are fortunate to grow a dozen or so varieties in almost every size, shape, and color. They/we have enjoyed them in starring roles in three-plus months of recipes. Tomato pies… tossed last-minute into hot oil pasta with some fresh basil…salsa(s)…mediterranean style with cucumbers, olives, and feta…bruschetta…roasted with garlic and pureed for a red gravy for lasagna, pizza sauce, and Tuscan chicken glaze…Caprice with fresh mozzarella, basil and a little balsamic…the vegetable requirement for 'sammies and burgers…we even managed to can a couple of dozen quarts for later, not sure when "later" is, as we popped the top off a jar just last week.
But alas, all good things must come to an end…there is a the season for everything…nothing lasts forever…blah, blah, blah, all I know is that I miss them already and they aren't even all the way gone.